2022 Conference for Industry and Education Collaboration (CIEC)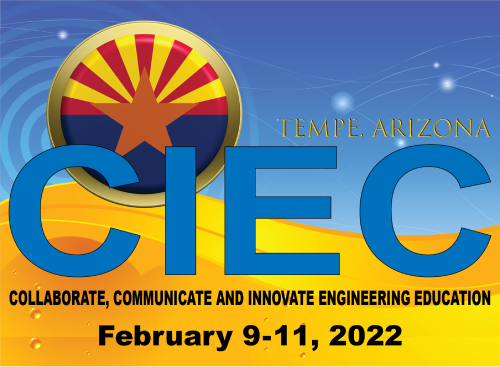 Join us in February 2022!
The ASEE Conference for Industry and Education Collaboration is organized by College-Industry Partnership Division (CIPD), Continuing Professional Development Division (CPDD), Cooperative and Experiential Education Division (CEED), and Engineering Technology Division (ETD). This annual conference includes workshops, technical sessions, training, and a plenary emphasizing the long and mutually beneficial partnerships between education, industry, and government.
The 2022 CEIC will convene at the Marriott Phoenix Resort Tempe at The Buttes in Tempe, AZ, from February 9th to the 11th. For more information and questions regarding the 2022 CIEC, contact Sandra English at sengli12@nccu.edu or Dr. Rich Robles at rich.robles@uc.edu.
The conference hotel is the Marriott Phoenix Resort Tempe at the Buttes at a room rate of $225/night.
CIEC Exposition and Sponsorship Opportunities
Your organization is invited to exhibit at the annual CIEC. The EXPO will feature exhibitors from academia and industry and will give your organization an effective and inexpensive exposure to over 300 professionals in engineering education. More than 200 representatives from academia and industry attend each year.
This conference is a nationally recognized conference focusing on engineering education issues for industry, universities, and government.
Benefits to exhibiting at CIEC include:
Exposure: To leading professionals in the field of engineering education and in industry.
Networking: Informal discussions among participants and exhibitors
Branding: Your company's name and/or logo will be printed in the final conference brochure.
If your organization would like to become a conference sponsor and/or participate in the CIEC EXPO, please contact Hiro Iino at hiino@iastate.edu.
This division strives to develop high principles and maintain the integrity of cooperative education throughout academia and industry. The general goals of the division are to foster a better understanding of cooperative education, improving co-op services to employers, and promote cooperative education in engineering and engineering technology to business and industry both national and international. The division also emphasizes professional standards and accreditation of co-op programs.
CIPD is an organization that fosters a strong alliance between engineering employers, educators and those interested in promoting partnerships that enhance science and technology.
CPDD fosters the development, delivery, and improvement of continuing education in all areas that pertain to allied branches of science, technology, engineering, and math. CPDD provides advocacy for and leadership in lifelong learning and it creates opportunities for the exchange of information and expertise among providers and consumers of educational programs.
ETD has as its principal function the support of individual member interests related to the field of engineering technology. Its membership is composed of public and private two- and four-year engineering technology educators from all over the world as well as representatives from industries that employ engineering technology graduates.