​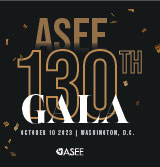 2023 ASEE Hall of Fame - Call for Nominations
ASEE has been proud for more than a century to support the engineering educators whose work has modernized society. Engineering educators have transformed academic, civic, cultural, medical, environmental and economic life.
In ASEE's 130th anniversary year, we are seeking nominations for the 2023 ASEE Hall of Fame to honor the Engineering and Engineering Technology Education standouts whose work has made a significant impact on engineering education. The impact of their contribution outweighs where or when it was made.
ASEE is seeking nominees across communities: pre-college, undergraduate, graduate, administrative, and professional settings. And we are seeking nominees from a range of categories. Members of academia, government and industry will be equally considered.
The key is
what has been the demonstrated impact of their actions?
Ideas for areas of influence, where a group or individual could have significant impact include
, but are not limited to
:
Pedagogy - the method and practice of teaching,
Broadening participation - diversity, equity, access, and inclusion
Research- engineering education frameworks, methodologies, syntheses, etc.
Service or leadership (to a community, profession, country, etc.)
Commercialization of technology/invention, entrepreneurship
Has made significant contributions to practice of engineering or engineering technology education
Reflects the evolving nature of engineering/engineering technology education over the past several decades
Both individuals and teams may be nominated. Self-nominations are also encouraged. The nominee(s) must be a past or present member of ASEE; if a team is nominated, at least one member must be a past or present member of ASEE.
Information supporting the nomination
The nomination packet must contain the following information:
Nomination Letter (maximum of 2 pages) that describes the achievements or activities for which the nominee is being considered. An explicit rationale for the nomination must be provided.
Evidence supporting the breadth and depth of the impact and contribution must be clearly described. A superior nomination would show impact beyond the immediate sphere of the nominee. For example, the impact could influence future engineering educators, or extend beyond engineering and engineering technology education. The measure of the impact could be described in either (or both) traditional and nontraditional metrics.
CV of nominee(s)
A personal statement (not more than 2 pages) describing how the achievement(s) was envisioned and operationalized and where the concept originated.
Supporting letters

No more than five
One letter must be from someone who was impacted by the contribution[1]
Letters should support how the nominee has met the award criteria
The evaluation of the nomination must consider both quantitative and qualitative measures with clearly defined evidence (e.g., number of people impacted, evaluation findings of an innovation, testimonials) demonstrating breadth and depth of impact.
Nominations must be emailed to awards@asee.org.

DEADLINE EXTENDED:

The deadline is August 11, 2023.
---
75th Anniversary Inductees - 1968
L.M.K. Boelter
Vannevar Bush
Karl T. Compton
Hardy Cross
William L. Everitt
Linton E. Grinter
Harry P. Hammond
Solomon C. Hollister
Dugald C. Jackson
Milo S. Ketchum
Frederick C. Lindvall
Anson Marston
Nathan M. Newmark
Andrey A. Potter
George F. Swain
Arthur N. Talbot
Frederick E. Terman
Stephen P. Timoshenko
Frederick E. Turneaure
Theodore Von Karman
Eric A. Walker
Lionel V. Baldwin
George C. Beakley
Joseph Bordogna
W. Leighton Collins
Edward E. David, Jr.
Daniel C. Drucker
Richard G. Folsom
Richard H. Gallagher
Donald E. Marlowe
Thomas L. Martin, Jr.
Irene C. Peden
Rustum Roy
John B. Slaughter
John G. Truxal
Richard J. Ungrodt
Mac E. Van Valkenburg
Ernst Weber
John R. Whinnery

---

Centennial Medallion Recipients - 1993

Howard G. Adams
Maurice F. Aburdene
Maurice Albertson
Paul Allmendinger
Tung Au
Lionel V. Baldwin
Eleanor Baum
Dwight M. Bauman
George C. Beakley
Fred W. Beaufait
Steven D. Bechtel, Jr.
Mason Benedict
Fred J. Benson
Frederick Berger
Arthur E. Bergles
R. Byron Bird
Kent M. Black
Harold A. Boiz
Joseph Bordogna
Orian W. Boston
J. Ray Bowen
Francis X. Bradley
John A. Brighton
Edward C. Brown
George Burnet
Montrust Q. Burrell
Conrad T. Burris
Frank E. Burris
John C. Calhoun, Jr.
Charles Carter
Bei-Tse Chao
Stephen R. Cheshier
Morris E. Childs
Camden A. Coberly
W. Leighton Collins
Edmund T. Cranch
Jose B. Cruz, Jr.
Richard G. Cunningham
L.R. Daniel, Jr.
Jane Z. Daniels
Edward E. David, Jr.
Robert L. Davis
Paul DeJong
George E. Dieter
Daniel C. Drucker
James J. Duderstadt
E. Leon Dunning
James H. Earle
Elmer C. Easton
E.R.G. Eckert
Arvid R. Eide
Edward W. Ernst
Thomas E. Everhart
Ralph E. Fadum
James R. Fair
Saul K. Fenster
Cary A. Fisher
Gordon H. Flammer
Leroy S. Fletcher
Richard G. Folsom
Wallace T. Fowler
Eli Fromm
Robert R. Fergason
Robert B. Gaither
Richard H. Gallagher
Anthony B. Giordano
Earnest F. Gloyna
Donald D. Glower
Mario Gonzalez
Richard E. Grace
Lawrence P. Grayson
Lois B. Greenfield
Linton E. Grinter
Carl W. Hall
John C. Hancock
Vincent S. Haneman, Jr.
Charles W. Haines
Arthur G. Hansen
Frank D. Hansing
Lee Harrisberger
Donald R. Haworth
Eddie Hildreth
Edward A. Hiler
David M. Himmelblau
Joseph C. Hogan
Maurita P. Holland
Nick Holonyak, Jr.
Frank L. Huband
Barry L. Hyman
Martin Jischke
Edwin C. Jones, Jr.
James B. Jones
William M. Kays
Robert Kersten
Howard S. Kimmel
C. Judson King
Edward T. Kirkpatrick
J. Knudsen
James G. Knudsen
Billy V. Koen
Helmut H. Korst
Ernest S. Kuh
Raymond B. Landis
James H. Lawrence
Edward Lear, Sr.
William LeBold
Melvin R. Lohmann
Jose F. Lluch
Donald Marlowe
Thomas L. Martin, Jr.
Ken McCollom
Hugh E. McCallick
James F. McDonough
John J. McKetta
James D. Meindl
James L. Meriam
Boris S. Mitin
Larry K. Monteith
Paul E. Morgan
Richard M. Morrow
James H. Mulligan, Jr.
Takashi Mukaibo
Willard E. Nudd
Frank Owens
Robert H. Page
Elinor S. Pape
Norman A. Parker
Irene C. Peden
Max S. Peters
Evan R. Petty
Winfred M. Phillips
Karl S. Pister
Helen L. Plants
C.E.G. Przirembel
Robert Quinn
David ReyesGuerra
Herbert H. Richardson
Robert H. Roy
Rustum Roy
Charles E. Schaffner
William R. Schowalter
Victor K. Schutz
Edmund P. Segner, Jr.
Liu Shu
Leighton E. Sissom
Ray L. Sisson
John B. Slaughter
Frederick W. Smith
Kare Sorby
Thomas E. Stelson
James E. Stice
William B. Stiles
Nam P. Suh
Chang-Lin Tien
Klaus D. Timmerhaus
Jose A. Toledo-Morell
Curtis J. Tompkins
Harris T. Travis
John G. Truxal
W. Dan Turner
Richard J. Ungrodt
Mac E. Van Valkenburg
Charles Vest
Howard L. Wakeland
Eric A. Walker
Ernst Weber
John A. Weese
Ernst Weidhaas
John R. Whinnery
John A. White, Jr.
Robert M. White
Lawrence J. Wolf
Henry T. Yang
James T.P. Yao
Paul Z. Zia
Don N. Zwiep