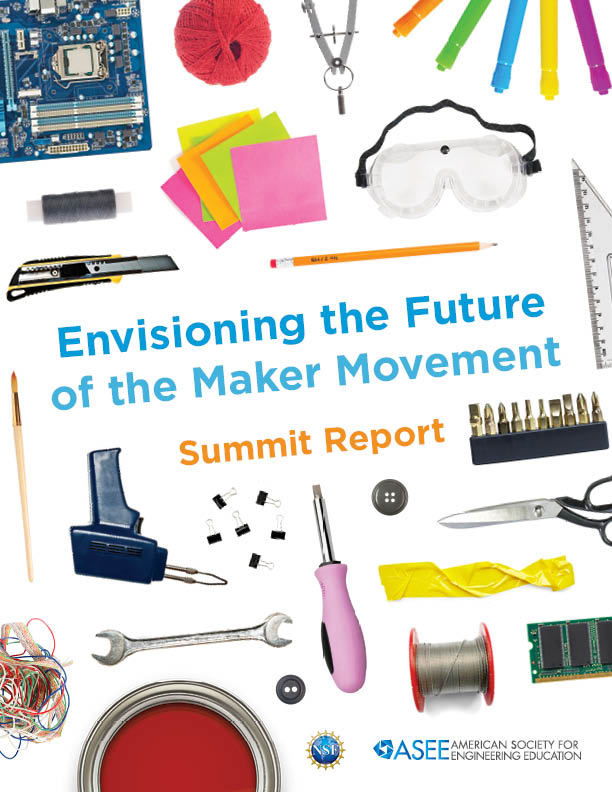 Maker Summit Report
Envisioning the Future of the Maker Movement – A Summit Report
This two-day event – convened by the American Society for Engineering Education in response to a White House Call to Action – sought to forge connections across the Maker Movement, envision the future of Making for engineering and education communities, and identify how Makerspaces can be designed to foster inclusiveness and broaden participation in the movement.
Key Findings:
Makers seek stronger networks and more networking experiences.
Educators must pursue more organic evaluation efforts addressing practical skills and long-term learning to more effectively assess the impact of Making on learning.
The movement must embrace efforts to increase diversity, accessibility, and inclusion to sustain and impact economic and global workforce advancement.
Makers need greater access to both tangible (3D printers, computer software) and intangible (best practices frameworks, Maker-specific Communities of Practice, targeted opportunities) tools to sustain a strong base of dedicated participants.
Roles and relationships of movement participants and stakeholders (students, educators, government officials, members of the STEM community, manufacturers and industry leaders) must be broadened and Makerspaces must adopt a more holistic, culturally expansive, and community centric role.